Jan 16, 2006
By Bonddad
bonddad@prodigy.net

This week earnings season begins on Wall Street. Unfortunately for homebuilders, the news has been pretty bad. Economists who are calling for a bottom in housing will argue that companies are loading all of the bad news into one quarter. Basically, companies know they already have a bad quarter on the books, so they go ahead and take a bunch of charges they would have to take anyway. However, we're seeing a ton of bad news come out in one quarter. It's difficult to think this is simply a mass move to write-off certain issues.
Centex Homes has big write-off
The Dallas-based company said it expects to lose $2 a share from continuing operations for the third quarter ended Dec. 31, hit by a $300 million land valuation adjustment and $150 million of option deposit and preacquisition walkaway costs. The quarter will also included a $60 million provision tied to a federal tax audit.

Excluding those costs, Centex expects to make 75 cents a share for the quarter, shy of the 81-cent Thomson Financial target.

The company says closings dropped 12% from a year ago in the third quarter, while orders slid 24%.

"We are navigating through one of the most challenging housing environments in the past 25 years," said CEO Tim Eller. "We are responding by reducing our land position and inventory, aligning our workforce to the current sales pace, and improving our overall cost structure."
The number of houses delivered for the quarter dropped 50.2 percent to 284, from 571 units a year earlier.

For the year, Dominion said it sold 1,171 houses with an aggregate value of $219.1 million, a 39.7 percent drop from 1,944 units with a total value of $370.6 million in 2005.

The company, which builds single-family housing in Central Ohio and Louisville and Lexington, Ky., delivered 1,335 houses last year, down 37.8 percent from 2,146 delivered in 2005.
Palm Harbor and M/I Homes report drops
M/I Homes Inc. Thursday said new contracts for the quarter ended Dec. 31 fell 61% from a year earlier to 353 homes.

The Columbus, Ohio-based home builder said its cancellation rate rose to 63% in the fourth quarter from 27% in the year-ago period, and from 42% in the third quarter. More buyers have been backing out as prices fall and as they experience more difficulty selling their existing homes.

...
Late Wednesday, factory-built home provider Palm Harbor Homes Inc. warned it expects to post a loss in its fiscal third quarter ended Dec. 29.

Chief Executive Larry Keener in a prepared statement said the manufactured-home industry "has continued to decline through the second half of calendar 2006, resulting in the weakest year for total factory-built housing shipments in history."

The Dallas company said it projects unit shipments for factory-built housing for 2006 were 156,000 to 158,000 homes, about a 17% decline from the prior year.
DR Horton and Meritage Homes report losses
n an indication that the housing sector has yet to reach a bottom, D.R. Horton and Meritage Homes both posted lower quarterly sales yesterday. D.R. Horton reported net sales orders of $2.3 billion for fiscal Q1, nearly $1 billion below last year's figure and widely missing Street forecasts of $2.74 billion. Cancellations came in at 33% -- not good, but better than last quarter's 40%. Horton has resisted offering incentives but has recently been compelled to discount properties, a move that will hurt profit margins.

Meritage reported net sales of $356 million in Q4, down precipitously from last year's $723 million. Q4 revenue was also down at $821 million versus $1.04 billion a year earlier, but this figure beat forecasts of $742.3 million. Neither company's shares took much of a hit on the news since the market had priced in its low expectations. Both Horton and Meritage are trading about 40% off their 12-month
highs.
And new home sales are probably overstated by as much as 20%:
New-home sales are tallied by the Census Bureau, based on a sampling of contracts signed by home buyers. Running at a pace of more than one million a year for the last four years, new-home sales have been a significant contributor to the housing boom — and to the economy. (Existing-home sales, reported monthly by the National Association of Realtors, count actual closings.)

But here's the rub: If a contract to buy a home, signed in November, is canceled in December, the Census Bureau does not subtract the failed transaction from the number of sales, or add the house back to its inventory total. In the last year, as the housing market has cooled, the volume of cancellations has risen to epidemic proportions.

...

And so, in the quarter ended on Oct. 31, Toll Brothers, the high-end home builder, noted that cancellations totaled 37 percent of contracts signed in the quarter, up from 18 percent in the same quarter the previous year. Pulte Homes, the builder based in Bloomfield Hills, Mich., reported a 36 percent cancellation rate in its third quarter, up from 17 percent in the 2005 third quarter.

"Cancellations have really affected big, publicly held builders the most, because they are relatively heavily concentrated in what had been the hottest markets," said Dave Seiders, chief economist at the National Association of Home Builders. Basing his findings on a survey of 30 large builders, Mr. Seiders concluded that in November 2006, cancellations constituted 38 percent of gross sales, compared with 26 percent in November 2005 and about 18 percent in the first half of 2005.
Here's the basic problem: demand is decreasing and supply is high.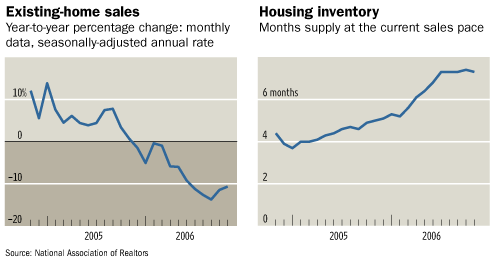 Lower demand = lower prices.
Higher supply = lower prices.
Put the two together, and you get lower prices.
This isn't over yet -- not by a long-shot.
Update [2007-1-16 11:2:59 by bonddad]:: From Bloomberg, KB Home has a bad quarter:
Los Angeles-based KB Home said in a U.S. Securities and Exchange Commission filing its charges will affect earnings for the fiscal fourth quarter ended Nov. 30.

The company said on Dec. 8 that it would take a charge of $235 million to $285 million against its housing stock. The cost of exiting land purchases was estimated at $90 million at that time.