Mar 28, 2007
By Bonddad
bonddad@prodigy.net
Don't blame me for this -- the news just keeps coming out. And the news has been uniformly bad for quite awhile. The people who have argued for a long time that housing was bottoming have been continually wrong about that bottom forming. Considering the large inventory overhang that exists and the tightening of credit standards currently underway across the country, expect this news to continue.
Federal authorities are investigating Beazer Homes on fraud.
Atlanta-based Beazer, the nation's sixth-largest residential homebuilder, rode high during the heyday of the housing boom—profiting from selling the homes it constructed and often financing the buyers as well through a wholly owned mortgage arm. It's common in the industry, but Beazer may have pushed the bounds: The North Carolina field offices of the Federal Bureau of Investigation, the Internal Revenue Service, and the Justice Dept. have recently opened a joint investigation into the company over such matters.

The Inspector General of Housing & Urban Development is also part of the group since a large percentage of Beazer's loans were made to low-income borrowers and insured by the federal government through the Government National Mortgage Assn., according to people familiar with the investigation.

"Actively Pursuing Fraud"

Investigators, however, are not limiting their probe to possible mortgage fraud. "There's all sorts of potential fraud issues here," FBI spokesman Ken Lucas told BusinessWeek. "We're looking at all types of [potential] fraud associated with Beazer—corporate, mortgage, investments."
Let's back-up through this story.
1.) Beazer is the 6th largest homebuilder in the country. This is not a regional, Mom and Pop operation.
2.) Three federal authorities are looking into this. At least publicly there don't appear to be any turf wars going on. That implies there are plenty of charges to go around.
3.) When an investigator says, ""There's all sorts of potential fraud issues here," you know you've got some serious problems.
More importantly, this news couldn't have come at a worse time. New homes sales dropped 3.9% last month. Inventories are at multi-year highs and sales are at multi-year lows. Now one of the largest homebuilders is being investigated. This casts a pall over the entire new home industry when it least needs a scandal.
From Bloomberg:
U.S. home prices fell in January for the first time in at least six years, a private report showed today.

A measure of home values in 20 metropolitan areas dropped 0.2 percent from the same month last year, according to the S&P/Case-Shiller home-price index. The decrease was the first since the group started keeping year-over-year records in January 2001.

The numbers follow a report yesterday that showed new-home sales at the lowest level in almost seven years as builders struggled with a glut of unsold dwellings. Falling prices make it harder for owners to borrow against home equity and may make lenders even more wary as delinquencies climb.

Today's data ``are a good indicator of the dire state of the U.S. residential real estate market,'' said Robert Shiller, chief economist at MacroMarkets LLC and a professor at Yale University.
This chart from the Big Picture Blog says it all: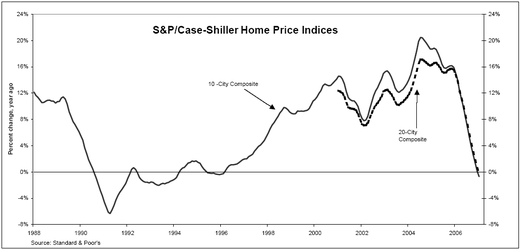 Finally, there is this assessment from the CEO of Lennar, another publicly trader housing company. It is from the blog Calculated Risk
"Let me begin by saying that these are difficult times for the home-building industry. We have recently completed our quarterly operation reviews with our division management team, and based on these extensive business plan and execution reviews, I can say first hand and with certainty that market conditions are very difficult across the country. As I listen to many of the leaders in the industry speak, that is our competitors and as I listen to economists and analyst and is investors, the message is becoming very unified and that is although we see some sporadic indications of firming in some markets, and we all look forward to seeing a firm foundation from which we can build forward, the reality is that market conditions are still challenging at best and in some markets continuing to deteriorate. Homes available for purchase has continued to climb while demand has been surely reduced. The market once driven by speculative build-up in demand and purchases that over the past years spurred more recent build up in inventory supply from speculators then put increased supply as they put homes back on the market and created the supply over hang and overall climate of customer caution.
These a very sobering comments, especially coming from an industry CEO.
There has been a literal deluge of bad housing news for the last few months. So far the economy has shaken it all off. But, I am wondering how much more the economy can take.

For economic commentary and analysis, go to the Bonddad Blog